Not your ordinary guidebook
Sick of buying a guidebook, only to discover that they skimp on information, while offering hundreds of pages of hotels and passport agency phone numbers? Our handbooks are 100% commentary & logistics material, crafted specially for travel professionals.
Tales Trivia, & Tidbits
Of course you get all the dates and architects you need to answer pesky questions, but the focus is on great stories, trivia, and fun facts. Telling you the sparkly details that make a place interesting, with tidbits from history, pop culture, movies, and more.
Designed to help you learn quickly.
A format fit for guides. No fluff. Quick, sharp sentences filled with only the most interesting information. Bold text and bullet points to help you get to what you need quickly, and craft your own commentary.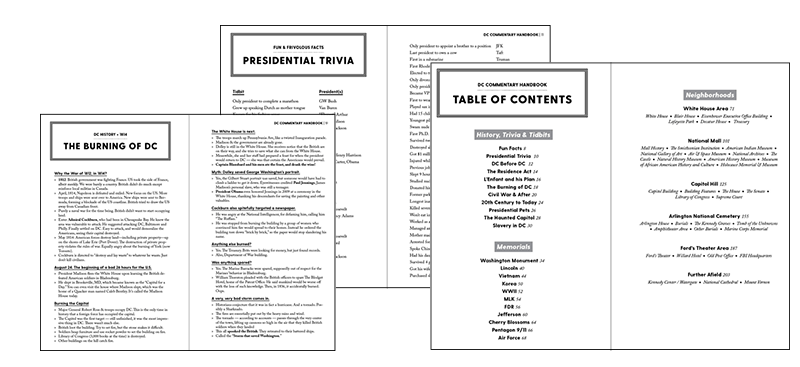 Just some of the unsolicited praise we've received…
"Your books are great!!!!! Love them!" -Jakki
---
"The books arrived yesterday. Wow! Opening the cover was like opening the lid to a treasure chest. Thank you for sharing your expertise with the rest of us. As a newbie I just gained a lot more confidence by having these resources. I can't wait to get out on the road!" -Michelle
---
"I started looking over the DC book and I am so impressed! So much information-wow!" -Suzanne
---
"Got the book today, and, even after a very brief review, I know that your interesting morsels of information will help me craft a really good first student tour to Boston. So happy to have your books, and your wonderful information has already added pizzazz to my commentary." -Debbie
---
"I just finished your Boston training book. Outstanding. Just what every TD needs." -Frank
---
"The books are fabulous! You have really filled a need with so many great facts, stories, and trivia." -Carol
---
"Thank you so much, they are amazinggggg! They were worth every penny." -Skye
---
"I was thinking I need to email you and let you know how much I enjoy learning new information from them. Thank YOU for doing this." -Ann
---
"Thank you for taking the time and writing all of those and sharing all of your knowledge, I use them all time!" -Jen
---
"Greetings again Mitch! I wanted to let you know how wonderfully helpful your books on DC, Boston, and New York have been! Thank you for putting them together." -Joseph
Explore the Library
The East Coast Collection, by Mitch Bach
These four wildly popular books authored by Mitch Bach are exactly what you need to deliver engaging commentary and know logistics for the three most essential cities on the U.S. east coast.
Shipping via media mail is free! All books are currently in stock.
Other Authors
Frequently Asked Questions