ONLINE FOUNDATIONAL COURSES
Get your start in the industry with a certificate.
If you're excited to work in travel, the start by choosing the online course that fits your goals. These are all recorded, modular courses, connected to an online discussion/community space where you interact with your fellow students.
In-Person Trainings
We have classes for tour guiding, tour directing, technology, storytelling and other skills, plus a range of destination trainings.
Guiding Boot Camps
Our Boot Camps are unlike any other tour guide training program out there. Through practical assignments out in the field, we'll expand what you thought you were capable of. Perfect for anyone looking to take their skills to the next level.
Previous guide training, experience, or completion of one of our foundational online courses required.
TripSchool GuidePRO Learning Membership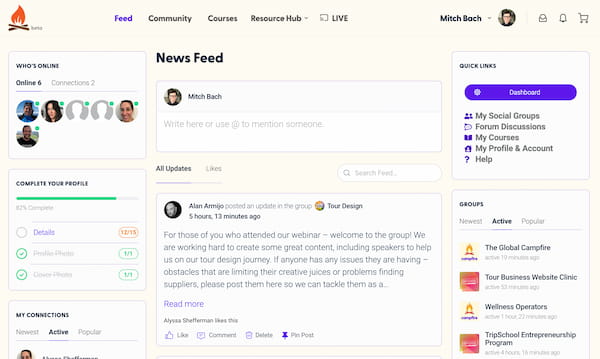 In 2021 we've launched Campfire a learning, networking and resource platform for tour directors & guides, and operators!
Campfire is something brand new for the tour director & guide community: equal parts social network, video and course library, job hub and networking platform, all for tour directors, guides and operators! Campfire has been a labor of love to help support guides, and joining is free!
Benefits include:
An Exclusive Library of StoryWalks: Logistics, Stories, Wow Moments and Maps for quick destination training around the world.
Networking directory of fellow guides, TDs, and operators
Learning Library of hundreds of videos, articles, PDFs, and other learning resources
Dozens of online courses for tour operators and guides
A Facebook-like social network of specialized discussion groups
Job Listings
Regular Online & In-Person Events
Again, while some benefits are premium, joining the platform is completely free.